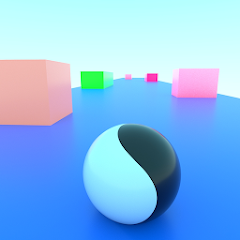 Speed Ball – The Infinity Run
01
Introducing Speed Ball – The Infinity Run, a thrilling ball racing game developed by Ocius Technologies. Get ready to immerse yourself in a world of rapidly moving speed as you take control of a fast ball using tiny gesture taps.
02
Speed Ball – The Infinity Run offers a unique and engaging gameplay experience that will keep you hooked. As you race along the path with beautiful natural sky surroundings, you must stay focused and increase your speed in a fun and challenging manner.
03
The fast zigzag running ball will test your concentration as you navigate through twists and turns, requiring quick reflexes to change direction.
04
In this addictive arcade game, you can earn points along your journey and use them to unlock various exciting features. No expertise is needed to play Speed Ball – The Infinity Run, making it accessible to players of all skill levels.
05
Challenge yourself to beat your previous high scores and spend more time honing your skills as you deal with the speedy ball.
CATEGORY
ANDROID APP & APPLE APP
We make creative solutions for modern brands.